What We Love To Do
We build better businesses by creating their visual identity, creative graphic design and web design that connect the hearts of brands to the hearts of their consumers.
BN Design Group serves business professionals through creative graphic print design, creative logo design, and graphic web design so that businesses have the branding that assists them with connecting with their audience.
Our designs enable our clients to present a strong visual identify that includes their logo, promotional printed materials, and presence on their website and social media.
Visual identity is very much like buying a car. You might order a high end model with powerful engine and add all options. You might just need a basic model to get around town. Or you might want to upgrade that basic model with fun accessories for weekend adventures.
Ultimately, there is no one-size-fits-all template. It's really about assessing your specific needs.
So, what makes a good visual identity?
A strong visual identity isn't necessarily pretty; it's purposeful, it helps you communicate who you are, no matter the medium.
Visual Identity Case Study
Violet June Photography
The Challenge
Create a visual identity that represented the work Violet does. As an award-winning portrait photographer, Violet needed an upscale and vibrant new identity.
The Solution
Utilizing Violet's initials, we developed a monogram that represents important concepts to Violet, combining a delicate yet modern typography and colors that well represents the brand.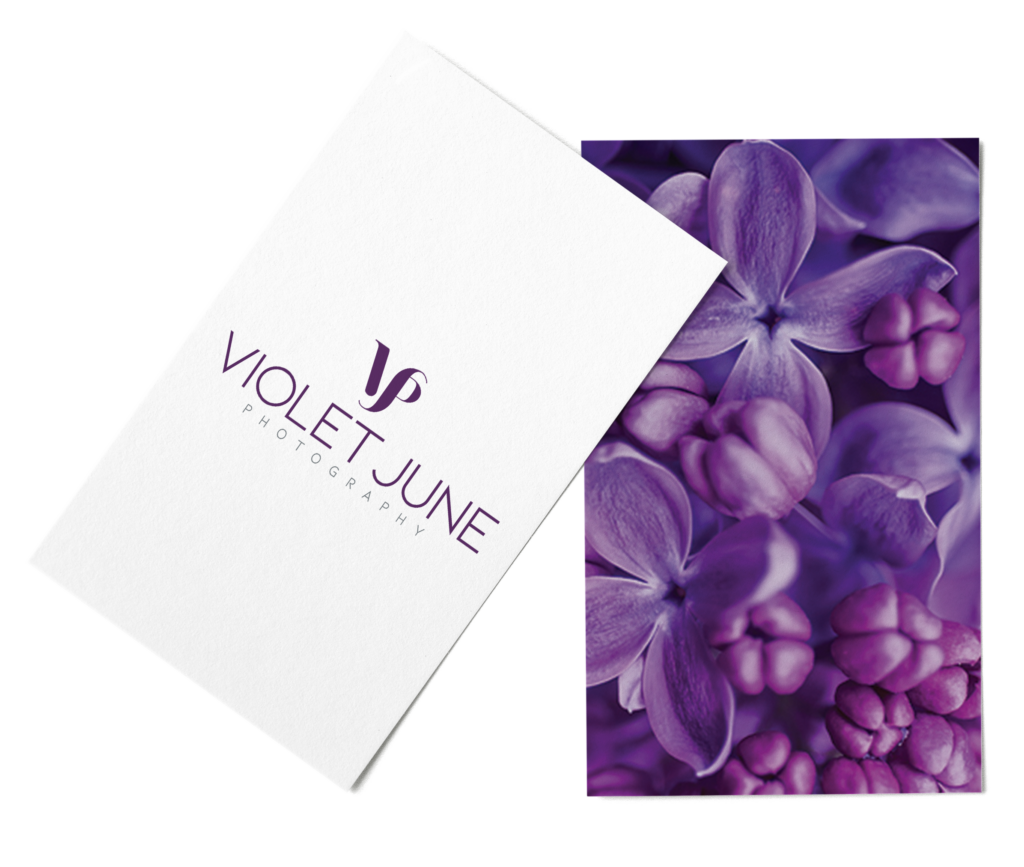 Graphic design helps the producer connect with the consumer. It conveys the message of the project, event, campaign or product.
To better understand the meaning of graphic design, it is important to be aware of the elements and principles that make up design. Elements are used in conjunction or opposition with each other to create visually striking and impactful designs.
So, what makes a good graphic design?
The capability of utilizing elements such as color, form, line, shape, size, space and texture in conjunction or opposition with balance, contrast, emphasis, movement, proportion and rhythm to create visually striking and impactful designs.
Graphic Design Case Study
Paws & Claws Mobile Pet Grooming
The Challenge
Create a direct mail piece that represented the quality of the services provided by the business keeping it fun and professional.
The Solution
When developing the direct mail piece, we utilized colors, shapes and visual elements that targeted their audience resulting in a successful campaign.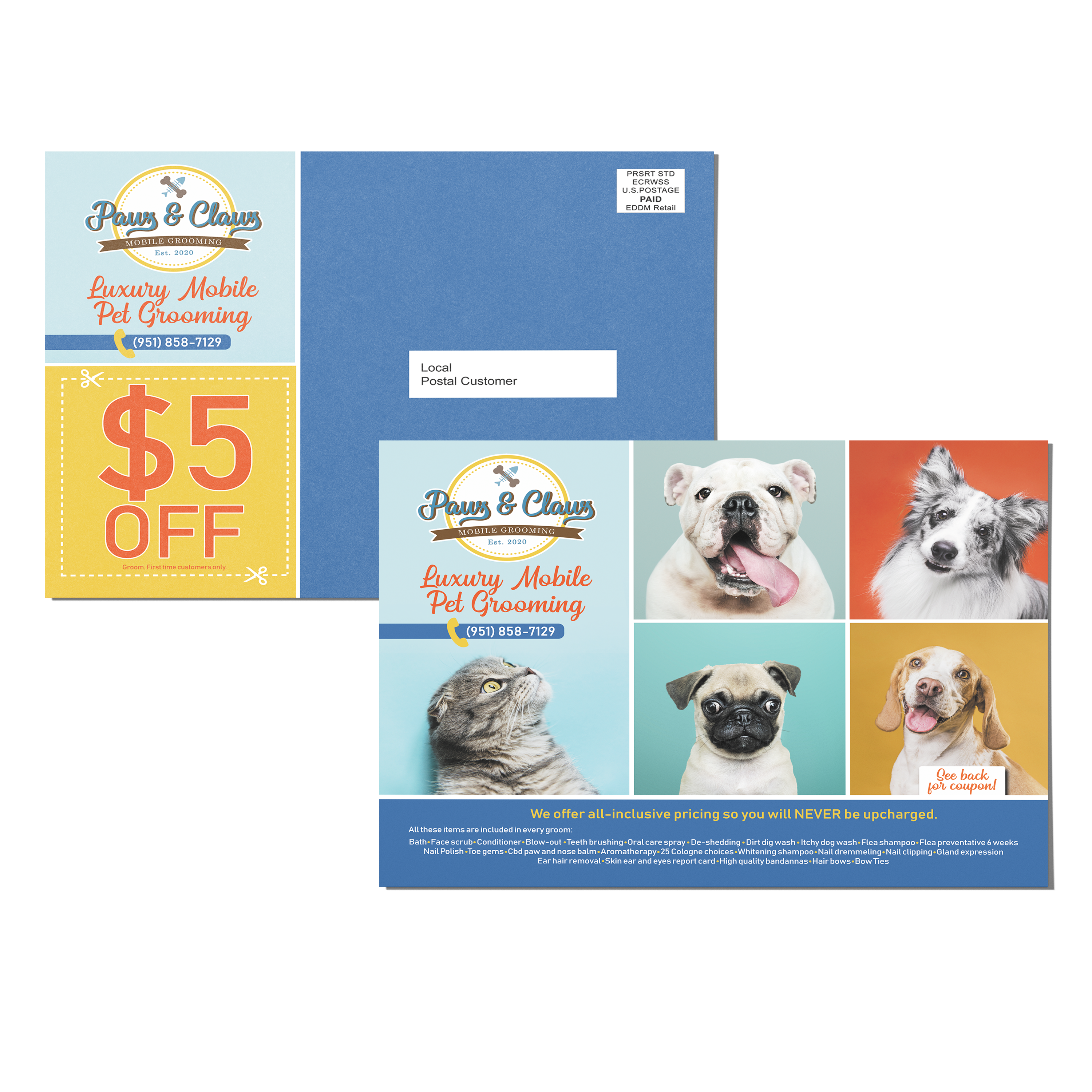 Web design is the appearance, layout, and, in some cases, content of a website or web based product.
Appearance: relates to the colors, font, and images used. Layout: how information is structured and categorized.
People search the internet for businesses, products, services, etc. When they search for something you offer or specifically for your business, you want to show up- and not just show up- but show up and look good. Looking good is important because your website is often the first impression you give potential customers. Before they even see your store or talk to your staff, they will see your website.
So, what makes a good web design?
A good web design is clean, well-organized, easy to navigate, functional, branded, and motivates the visitor to do business with you.
People want a quick solution to their problem or a quick answer to their question. Make it easy for them. They also want to look at something that is visually appealing. Give them that with a quality website.
Web Design Case Study
Inland Empire Restaurant Association
The Challenge
Create a website easy to navigate that required little to no maintenance while having important features such as a search database and registration.
Additionally, the client wanted his audience to keep engaged while learning about the services offered.
The Solution
When developing the website, we opted to use a site builder platform with extensive customization without compromising the low maintenance requirement.
We implemented visual elements that delivered the engagement the client was looking for.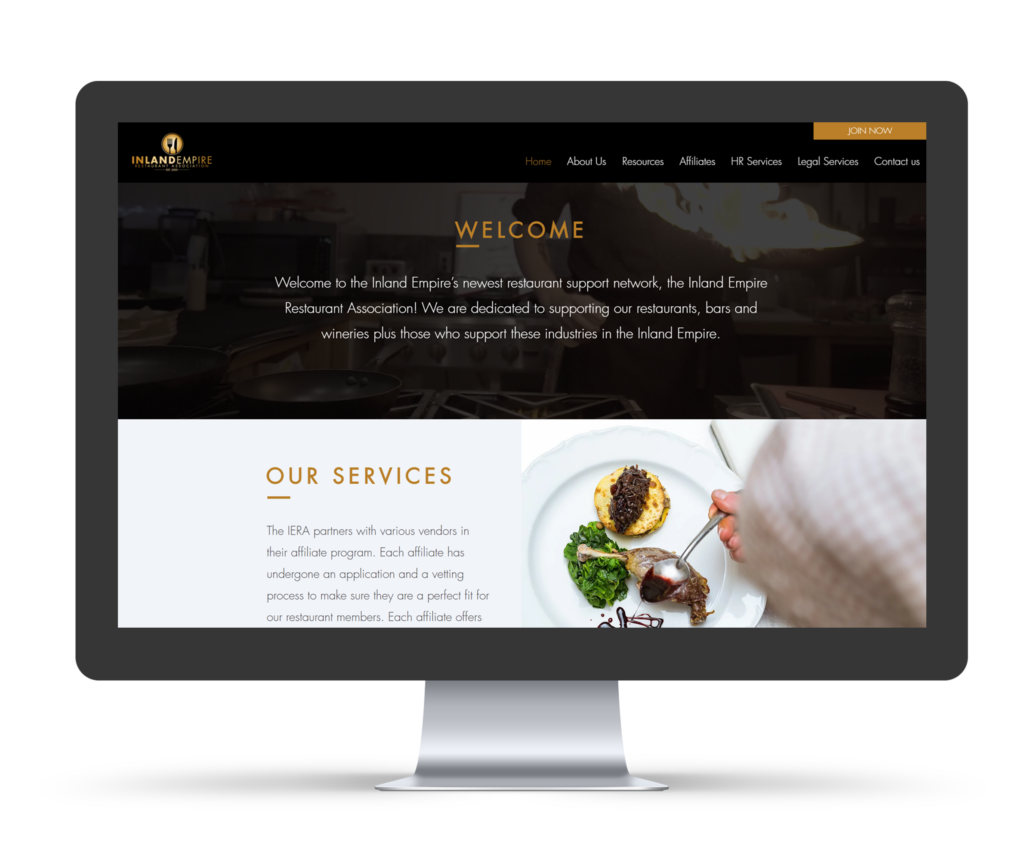 Frequently Asked Question
Ready to Get Started?
We'd be delighted to meet with you to review your graphic or web design needs. Reach out to us to get started!